Monday, June 30, 2008
Goodbye Chicago, Hello Brooklyn
Chi-Town Update:





posted by Sickamore @ 9:58 AM

Sunday, June 29, 2008
3 Movies I'm Leaving Starbucks To See This Week
Wanted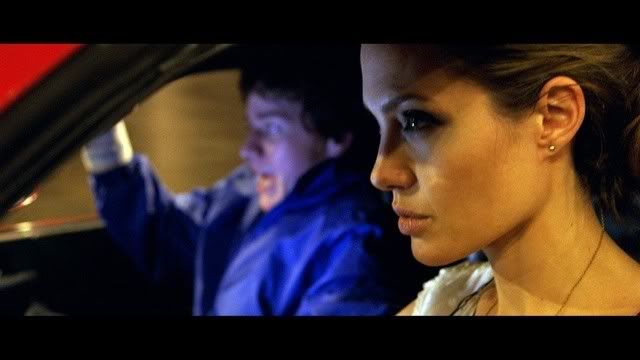 The Wackness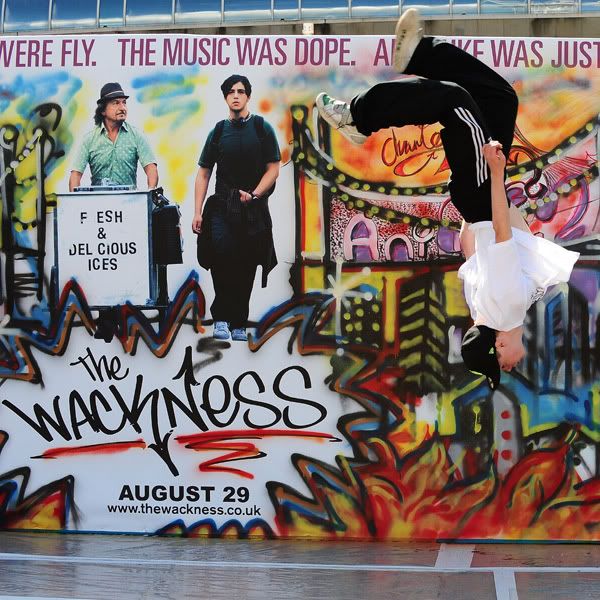 The Last Mistress
Labels: my life is a movie
posted by Sickamore @ 12:03 PM

Randall Hussein Medford


If you're a REAL Obama supporter, you'd change your middle name to Hussien. Jesse wasn't tough enough for me anyway. Heres's a quip from the article via NY Times:


The movement is hardly a mass one, and it has taken place mostly online, the digital equivalent of wearing a button with a clever, attention-getting message. A search revealed hundreds of participants across the country, along with a YouTube video and bumper stickers promoting the idea. Legally changing names is too much hassle, participants say, so they use "Hussein" on Facebook and in blog posts and comments on sites like nytimes.com, dailykos.com and mybarackobama.com, the campaign's networking site.

New Husseins began to crop up online as far back as last fall. But more joined up in February after a conservative radio host, Bill Cunningham, used Mr. Obama's middle name three times and disparaged him while introducing Senator John McCain, the presumptive Republican nominee, at a campaign rally. (Mr. McCain repudiated Mr. Cunningham's comments).

The practice has been proliferating ever since. In interviews, several Obama supporters said they dreamed up the idea on their own, with no input from the campaign and little knowledge that others shared their thought.

Some said they were inspired by movies, including "Spartacus," the 1960 epic about a Roman slave whose peers protect him by calling out "I am Spartacus!" to Roman soldiers, and "In and Out," a 1997 comedy about a gay high school teacher whose students protest his firing by proclaiming that they are all gay as well.

"It's one of those things that just takes off, because everybody got it right away," said Stephanie Miller, a left-leaning comedian who blurted out the idea one day during a broadcast of her syndicated radio talk show and repeated it on CNN



Read The Whole Article Here

Labels: barrrrrrrrrrrry
posted by Sickamore @ 8:56 AM

Friday, June 27, 2008
Live Blogging: 12 Hour Train Ride To Cleveland
I'm on a 12 hour train to Cleveland.

Why?

Well I'm backed up on reading. Plus I'm a little crazy. And wanted some time to focus. I have Kobe-like work ethic when traveling. Plus I can't write while driving. Figured this would be the best way. Blogging via BB again. Some updates:

-Went with Joie to this African Village Charity Fundraiser. Ironcially, I was the only black guy there. That is if you don't count the African babies for sa...I mean sponsorship. Pictures of African babies and you could just go get your own. I know it's charity, but it just didn't feel right. Felt Angelina Madonna tendish rather than good wil towards humanity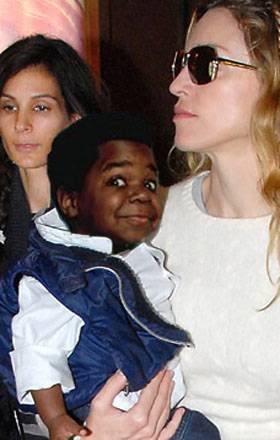 -Remember that shirt I had with the naked pornstar on it?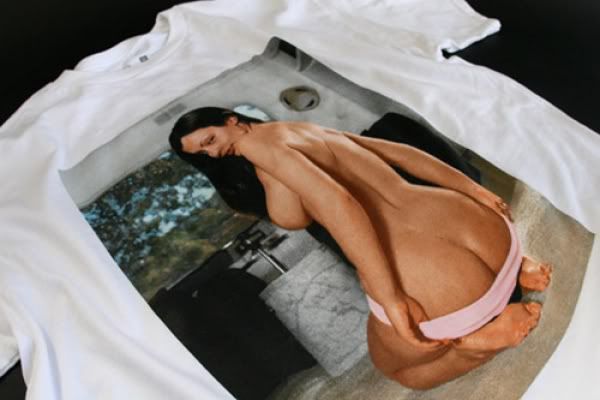 Well it's caused me all types of attention today. Most recently, the train conductor had the nerve to ask me to turn the short inside out. Or change it all together. Something about kids. Psh. I heismaned on him real quick and kept on George Jeffersoning
-Watched that show FN MTV yet? Its like Best Week Ever MTV style for videos. I went up there today and did commentary on 3 videos. Would you believe the first two were of live Rihanna performances?!?!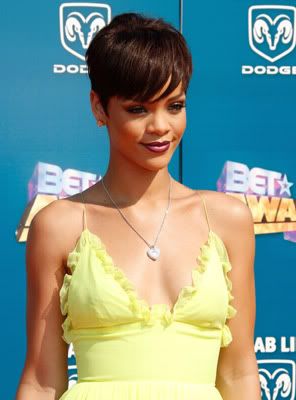 I can't escape her. The 3rd was of TI's "Here I Am". I dunno if they kept my little quotes, but check it out tonight and see if you see a brother
-I'll respond back to all emails (no mp3s) in the next 6 hours. I'm on a train with no internet reception just writing and reading. Get creative. Sickamore@TheFamousFirm.com
-The Firm's boat is lighter 3 people this week. Some willingly, others forceably. Luckily it creates more salary cap room for new people! Woo Hoo!
-Some little girl just screamed "OMG!" when I walked by her in my shirt
-Been playing basketball every other Sunday at Tillary Park by Brooklyn bridge. Back in great shape. Another month away from dunking. My game is a mix or Trajon Landon and PJ Brown. Trajon cause of the shot and PJ cause of the fouls
-Sportscenter is incredibly boring this time of year. This has increased my WorldStarHipHop watching tenfold. I can quote anthing from 50 Cent to Charlie Rock
-I'm going to live blog from the train periodically tonight. I think it gets in at 4am. That's when I go to my hotel, wake and (as if you didn't guess this one) find a Cleveland Starbucks



The Famous Firm
posted by Sickamore @ 8:59 PM

Sunday, June 22, 2008
Incredible Freestyle by Swagger
Scouting talent down in Maryland yesterday, The Firm's Phella brought this kid to the table. He, hands down, is the best freestyler I've ever seen in person. I'll put $500 on a battle with anybody. Get whoever you want. No writtens tho. He started freestyling 10 minutes before the camera came on. Crazy! And I had my bucket on!



Labels: da firm baby
posted by Sickamore @ 5:22 PM

Friday, June 20, 2008
And Today's ESPY Goes To...
All she needs now is an accent. And maybe a burger. Still shots from her new video "Official Girl" f/ Lil Wayne


Labels: i love her
posted by Sickamore @ 5:21 PM

Just When I Thought I Kicked The Itch...
I think I'm relapsing...dumb hat and all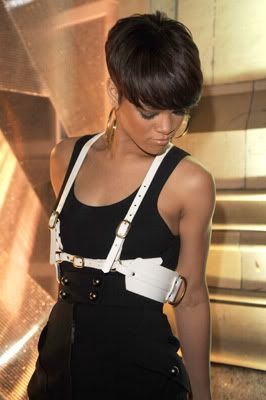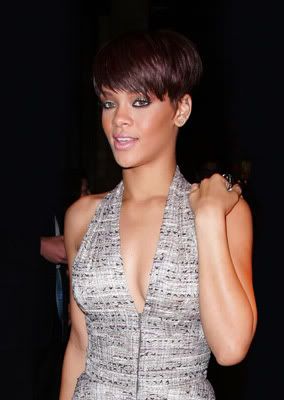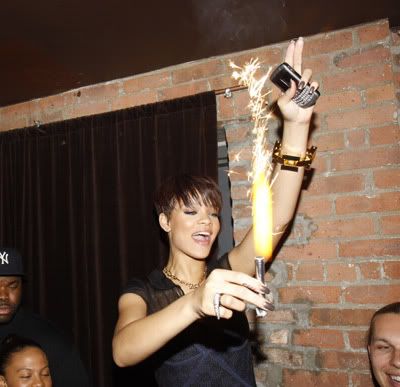 The Addiction:

Post Rihanna Syndrome Part 3
Post Rihanna Syndrome Part 2
Post Rihanna Syndrome Part 1
Nicki Minaj vs Rihanna
Rih Rih + Chris Awards
Rihanna Gucci
Rihanna Tribute Feb 4th
In Rihanna's Top 8
Rih Rih @ Barney's

Labels: i love her
posted by Sickamore @ 11:12 AM

Thursday, June 19, 2008
Life In A Bucket


I love bucket hats. Searched 5th Avenue today for 45 minutes looking for one. Armani Exchange had this crazy navy and red joint. I'm going to start the worlds greatest bucket hat collection. You feel like the man in a bucket. 84 LL-ish.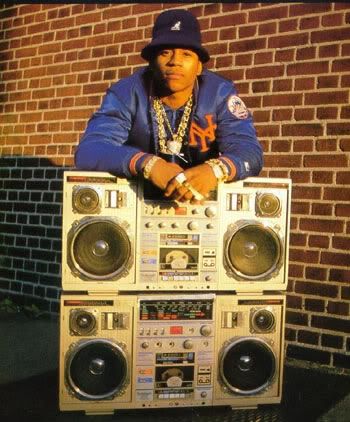 Cambodian breast milk with a robe and shades-ish.

Might start a bucket company. Or a store that sells sneakers and buckets. Call it Kick The Buckets. Doesn't take much to make me happy. And it all revolves around the bucket. My sneakers don't match my clothes today. And that's ok. Because I have on a bucket.

Scouted talent in Atlantic City last night. Very talented group and singer. Then went to Harrah's Casino by The Pool.


But that drive back to the city killed me. Then 5 meetings back to back. Bunch of deadlines due Friday. Now I'm typing during a meeting in Starbucks (hey!) on Broadway and Bond. Couple events to spot by tonight. Stupid tired. Everything's still ok though. Because I have on a bucket.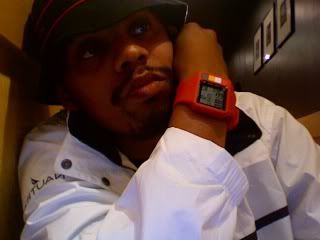 Sadia's death was depressing. For days this blog was the only news outlet that reported her violent death. I don't know why. Sadia was such a great person. But they rather write about Michelle Obama on The View. I didn't even want to blog because everything else seemed trivial. Bucket won't make this better.
posted by Sickamore @ 8:17 PM

Wednesday, June 18, 2008
Taking The Loss 1 Word At A Time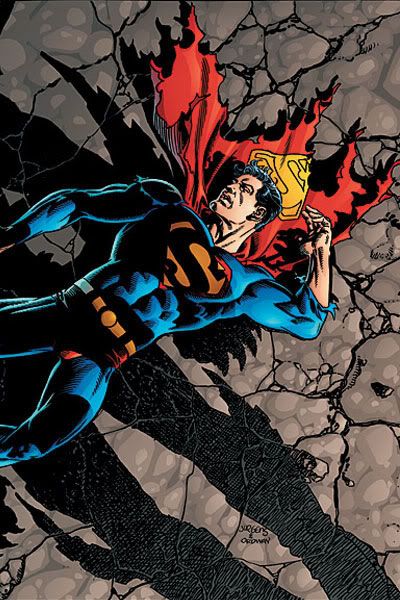 Drinking. Drunk. Patron. Tonic. Kobe. Quit. Gasol. Soft. Boston. Racist. Sam. Old. Head. Phil. Bench. Gasol. Doc. Kesyer. Soze'. 131. 92. Stopped. Watching. 3rd. Quarter. Pop. Burger. Email. Blog. Dart. Happy. Angelica. Estatic. I. Saucy. Knicks. Suck. Bynum. Chip. 2009. 73. Wins. Text. Gloaters. Wanna. Go. Sleep. Yankees. Willie. Fired. Womp. Womp. Pissed. Garnett. >. Barkley. Kobe. Why? David. Stern. Cheater. Thank. God. I'm. Giant. Fan. Plaxico. Re-Sign. Brady. Giselle. Moss. Bilicheck. Losers. Ha. Ha. Sigh. Farmar. Ronny. Traded. Ariza. Time. More. Magic. Goofy. Smile. Sportscenter. Off. TV. Off. Phone. Off. Blackberry. Battery. Removed. Laptop. Dead. Reflect. Loss. Hurt. Depressed. Denial. F. You. Bye.

The Famous Firm
posted by Sickamore @ 12:21 AM

Tuesday, June 17, 2008
Kobe vs Celtics Game 6 2nd Quarter Recap
Fuck this. I'm tight. Tight tight tight. Tight. Saucy. Froggy. Irritated. Mad cuz they stylin on me. Feelin Hillary-ish.

Kobe needs to take over. I wanna live and die with my gunner. Even Lebron dropped 40 something in Game 7. You the best player in the world? Prove it! And never pass the ball. Not once. Take every shot. Every time.

I'm tipsy. I'm tight. I'm a sore loser.

The Famous Firm
posted by Sickamore @ 10:27 PM

Email Bloggin: Kobe vs Celtics Game 6 1st Quarter Recap
9:38pm
Cipha Sounds Comedy Show
Meat Packing District (pause_, NYC

-Get Allen a wheelchair...another fake injury
-Kobe is going nuts. My bet? 50
-Bill Belichick is there to tape Laker hudles
-Lukey baby!!! Stuntin like his daddy
-Gasol is terrycloth, that means...
-Gasol is build a bear
-Gasol is the other side of the pillow
-Gasol is sorbet
-As long as Rondo is on the floor, we always have a chance
-Steven Tyler?! Muahahahahahahahhah

The Famous Firm
posted by Sickamore @ 9:38 PM

Monday, June 16, 2008
R.I.P. My Homegirl Sadia Morrison
She was murdered

Friday

night in the Bronx. Details are still sketchy. Publicist to Thomas Jones, Zab Judah plus more. I was just speaking to her last week. My condolences to her family.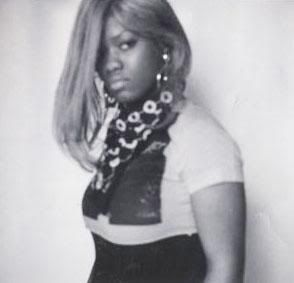 UPDATE:

SADIA MORRISON FUNERAL
THURSDAY @ ORTIZ FUNERAL HOME IN THE BRONX
524 SOUTHERN BLVD + LONGWOOD AVE FROM 2-7

I don't know if her family wants this info public. If not, I'll take it down. Just trying to help because I don't see anything posted about this anywhere on-line

Labels: Aint No Love In The Heart Of The City, unfamously treated
posted by Sickamore @ 8:59 AM

Obama Chimes In On NBA Finals


Jimmy Kimmel and Barack Obama talk about the Kobe vs. Celtics series. Transcript:





Jimmy

: Have you been watching the NBA Finals?



Obama

: I have



Jimmy

: I have to ask you who you're rooting for if anyone?



Obama

: I just want a good series. I'm a Bulls fan obviously coming from Chicago. I just wanna see good series. I gotta admit I did not anticipate Boston manhandling the Lakers like that



Jimmy

: Will your health care plan cover fake injuries like the one Paul Pierce keeps having? Because it seems like something needs to be done about that



Obama

: I tell you what, whatever injury he had he should try to get another one because he played great in Game 4



Jimmy:

You're big on hope; do the Lakers have any remaining in this series?



Obama

: Look Kobe Bryant is the best player in the world and is basically unstoppable when his game is on. But right now the Celtics are playing better team ball. The bench of the Celtics is playing better a lot than the Lakers bench right now which I think a lot of people are surprised by



Jimmy

: Are you at all worried Senator that if the Lakers do come back that'll it might encourage Hillary to come back to?



Lol @ the last question

Also, his teammate Al Gore is announcing his support for Young Barack tonight. Make sure you check it out. His endorsement letter is below:

from Al Gore

to Sickamore
date Mon, Jun 16, 2008 at 8:04 PM
subject My endorsement

Dear Friend,

Make a donation A few hours from now I will step on stage in Detroit, Michigan to announce my support for Senator Barack Obama. From now through Election Day, I intend to do whatever I can to make sure he is elected President of the United States.

Over the next four years, we are going to face many difficult challenges -- including bringing our troops home from Iraq, fixing our economy, and solving the climate crisis. Barack Obama is clearly the candidate best able to solve these problems and bring change to America.

This moment and this election are too important to let pass without taking action.

That's why I am asking you to join me in showing your support by making a contribution to this campaign today:

https://donate.barackobama.com/gore

Over the past 18 months, Barack Obama has united a movement. He knows change does not come from 1600 Pennsylvania Avenue or Capitol Hill. It begins when people stand up and take action.

With the help of millions of supporters like you, Barack Obama will bring the change we so desperately need in order to solve our country's most pressing problems.

If you've already contributed to this campaign, I ask that you consider making another contribution right now. If you haven't, please take the next step and own a piece of this campaign today:

https://donate.barackobama.com/gore

On the issues that matter most, Barack Obama is clearly the right choice to lead our nation.

We have a lot of work to do in the next few months to elect Barack Obama president, and it begins by making a contribution to this campaign today.

Thank you for joining me,

Al Gore

LIVE TONIGHT -- 8:30 p.m. EDT: Watch streaming video of Al Gore and Barack Obama at a rally in Detroit, Michigan:
Labels: give me sports or give me death, sick-n-stackbucks, yessir we did
posted by Sickamore @ 8:00 AM

Cafe Habloggin
Started:
5:18pm
Cafe Habana, Soho, NYC
2 Frozen Mango Magaritas In


-I went the last 3 days laptopless. Hence the email blogs. Left my laptop (and everything else) in Queens. But luckily I got everything back. I'm convinced the 3rd luckiest guy alive is me: behind Derek Jeter and the guy who founded American Apparel
-God doesn't want me to get a haircut. Neither does my mother (thinks I look like my Dad). The barber takes one look at me and suddenly has four people ahead. It's kind of annoying to comb the 1970s Porn Star afro in the morning. But it's having a unforeseen side effect: the women love it! Especially the frizzy-haired-corraine-bailey-rae-don't-call-me-a-chick chicks. Gimmie another 3 weeks and I'll be bloggin about Zoe Kravitz dates. 6 months and I'll be asking where's my Erykah Badu at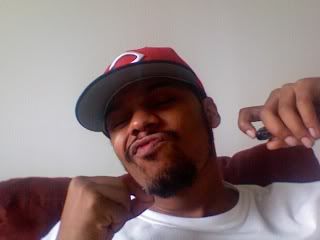 -5 Places To Go If U Ever Wanted To Bump Into/Kill Me: The Coffee Shop, Vinnie's Styles, Bar 89, Kips Bay and Starbucks
-"Brand Manager". What exactly does that mean? My friend Keith White (Wynter Gordon's Manager) has a company called Brand Management, so obviously he understands the importance of the role. It came to my attention reading The House Burner's Forbes Magazine article. He had a guy there who seemed to be more important than Chris Lightly. I'm going to create that role for The Firm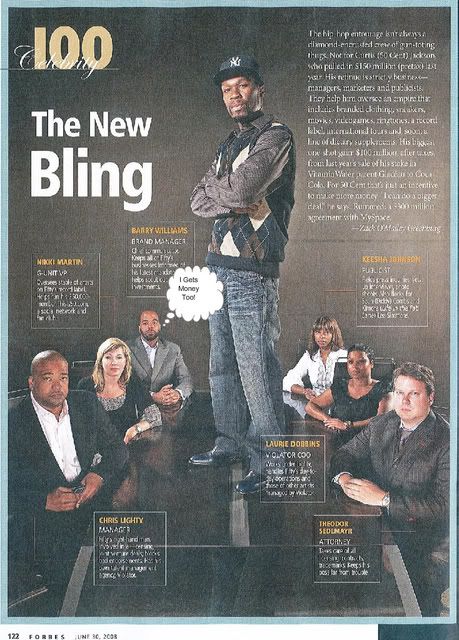 -"They keep telling me to speak about the Celtics/Matter fact I aint gonna speak about the Celtics/Never in my life could I have imagined this/Kevin Garnett's choker ass might win a championship"
-At this point in the blog, I'm intoxicated beyond the New York State limit
-My waitress doesn't like me and I'm not to fond of her either. This beef started two weeks ago when it took 45 minutes to sit me. Then I ordered food at the bar and tried to ask me to get up for someone else. See I got a bad character trait: I always think someone's trying to play me. Especially passive aggressive service people. They obviously can't outwardly say what they feel but it reflects in the service. Last night at the coffee shop the waitress tried to play us. Very rude, purposely forgetful etc. But because it was after 3am, she gets a guaranteed 17.5% gratuity. Luckily assholeness (pause) is still optional, so I wrote "bitch" next to where it marked "tip".
posted by Sickamore @ 6:00 AM

Sunday, June 15, 2008
Live Blogging: Kobe vs The Celtics Game 5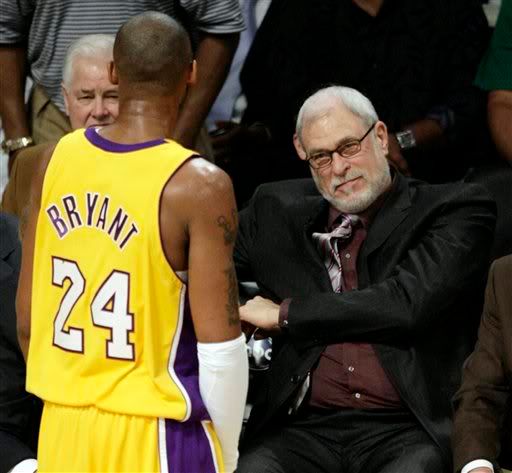 8:31pm

Oh you thought you aint goin see me???!?!?!



8:35pm

They keep playing this racist Boston song from The Departed: Dropkick Murphy's - Shipping Up To Boston. Can't front though, it's one of my favorite movies. Especially Mark Wahlberg's character. "I'm the guy who does his job, you must be the other guy!"




8:47pm

Mark Jackson + Jeff Van Gundy = The Best Live Announcer Team in The NBA



8:54pm

ASHANTI?!?!?!?!?!?!?!?! Who's doing booking for The Lakers? We need inspiration! Not Ja Rule's Cher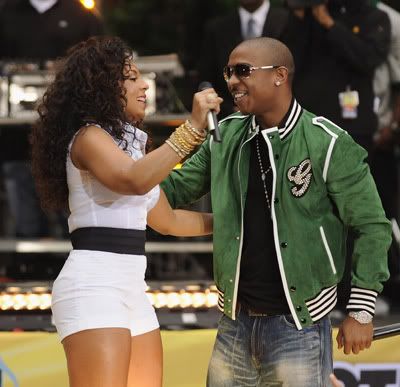 8:59pm

Kobe should get this 'chip on GP just off of the fact Vladimir Radmanovic is the worst starter in the NBA. Did you know he makes the 4th most ($5,632,200) on the Lakers after Kobe ($19,490,625), Lamar ($13,248,596) and Gasol ($13,735,000)?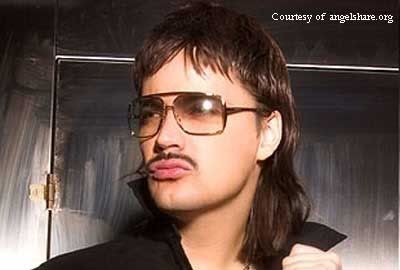 *Pic from his Supersonic days




9:10pm

Rajan Rondo = Fredo Corleone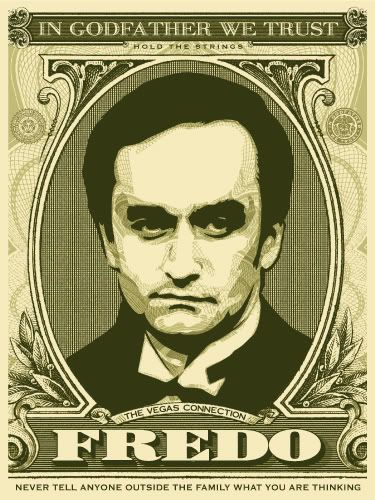 9:16pm

Zohan is playing big this quarter. I think he's deathly afraid of Powe, Garnett and Brown though. KOBBBBBEEE for 3! Someone's dropping 82 tonight!



9:24pm

Muahahahahahahahahahahahahahahahahah (evil laughter). Consider this record broken!




9:40pm

Official 1st Quarter Recap: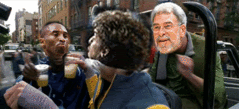 9:44pm This is why the Lakers need a tough guy. Someone to punch Pierce in the face. Elbow to the throat. he's the only one keeping these guys alive. if this was teh old school, they would've sent Turiaf off teh bench in a suicide closeline mission Raja Bell style. You see that pyscho layup? Phil Jackson needs to label Pierce "food". Wheelchair forreal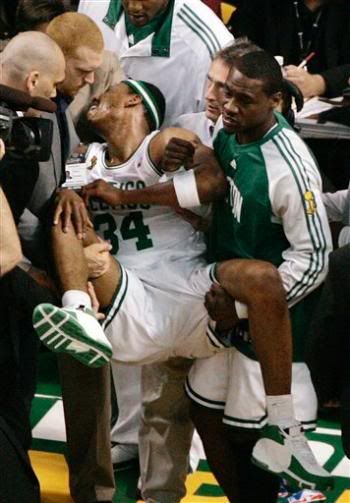 9:56pm

Lakers Subconscious:

"Kobe hit four 3's. Let's stop giving the best player in the world the ball and let these Euro guys shoot."

WTF?!?!?!?! We need a intervention and I know the perfect guy for it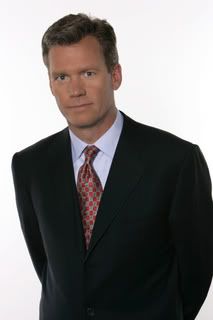 10:13pm

You cannot stop Lamar Odom you can only hope to contain him!!! L-O! DEY KNO! L-O! DEY KNOW! L-O...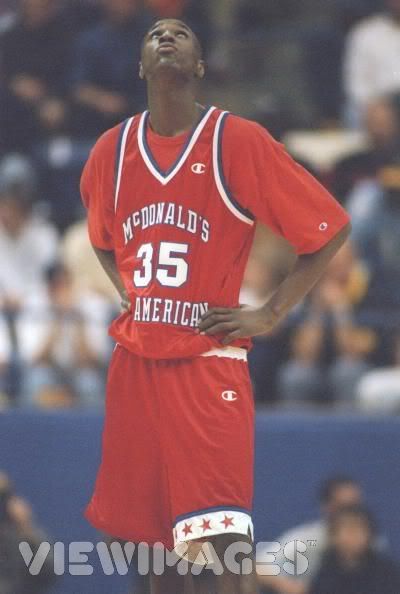 10:17pm

2nd Quarter Recap: It's all about the 3rd! Kobe needs to take at least 15 more shots. In the meantime, enjoy the Thank God Im Famous halftime show sponsored by GoOldHead.com






10:40pm

I've never seen a guard's talent get disrespected as much as Rondo. Forget leaving him open for the jumper, they'll give him the lane! And he still loses the ball! He's like the '08 Smush Parker. I can't see him making it past next year's all-star game in a Celtic uniform



10:50pm

It's looking a little Memphis, I can't lie. We're up by 1 but it feels like Kob's down by 10. The Lakers are scared to take it to the whole. I'd like to see what Dwayne Wade averages against the Celts. You gotta just go right to the whole with all your muscle. Need young late 80's Baby energy. 80s Baby toughness. Kobe needs Bynum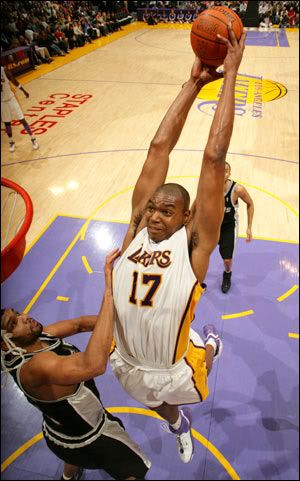 10:55pm

Rajon Fredo is the dumbest player alive. Did you see that horrible 3 point play? He might as well be a Laker and have the Celts playing 4 on 6 everytime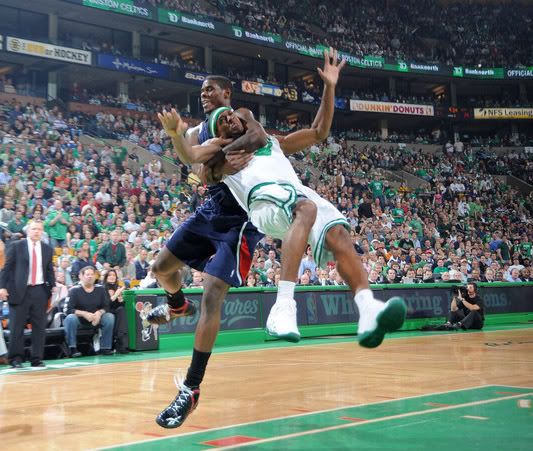 11:05pm

Kobe got thru the 3rd Quarter. Now I just need him to hit a freakin shot. I'm tired of them playing like a Euro league team. Three point brick after 3 point brick. I don't care if Kobe has 4 fouls. GO TO THE HOLE!!! He's playing like Andy Stitzer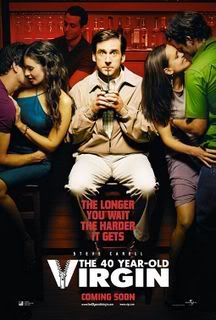 11:12pm

3rd Quarter Recap: OMGWTFKOBE MAKE A GOD DAMN SHOT!



11:22pm

More inspiration from Laron James dedicated to the Lake Show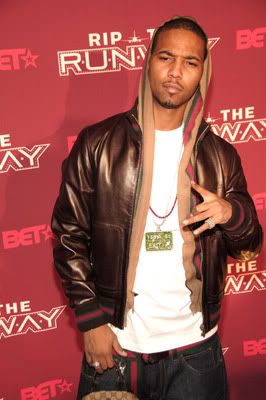 They say a family that prays together, stays together.
And one that walks apart just falls apart.
So, together we stand, divided we fall.
United, we form Voltron and take off all. Let's move.
Yes, the birds left the nest.
I'm all grown up I gotta fly with the rest.(uh huh)
Best of the best is what we strive to be. (Yeah).
A legacy is what we trying to leave.
Ya dig?
Now say goodbye to the past.(why?)
The future is here at last.(at last)
The second coming.(yea)
The new beginning.(yea)
The truth is speaking.(uh huh)
You should listen.
So glorious.
Victorious.
We take what we want we born warriors.
So glorious,
Victorious.
We take what we want we born warriors.
If you fall, get up and try it again.(uh huh)
If you drop, get up and try it again.(uh huh)
If you fall, get up and try it again.(uh huh)
If you drop, get up and try it again
We tired of being runners up.
We coming up. Yup.
We ready for whatever you put in front of us. (Whatever)
Blood, sweat, tears, (yeah)
We dripped all three just to get here.(here)
No longer will I wake up and my dreams just vanished.(nope)
It's staring right at me, I must take advantage.
Hard work pays off, you get what you put in.
So why stop now?
Gotta keep pushing. (Keep pushing)
We in a fight to the finish,
So why not fight 'till you finished?
Dig it?
I'm my own author, here's my story.
My life's been full of pain,
Now where's my glory?(ahh)




11:30pm

In the penalty. With 6 minutes to go. Nothing good can come of this. Posey three. 4 point lead. KOBE?!?!?!?!?!?!?!?!?!?!?!?!?!!!! KOBE!!!!!!!!!!!!!!!!!!!!!!!!!!!!!! It's Father's Day Kobe! Do it for the girls!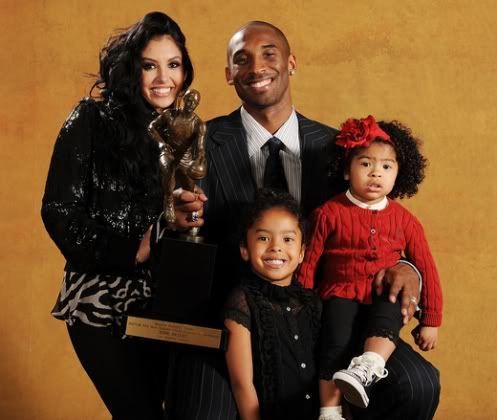 11:40pm

92-91. Gasol aint poppin. Sasha aint poppin. I'm frustrated. This team basketball shit isn't getting us anywhere. I wanna die with my gunner. Not the help.



11:46pm

"

Gimmie some James Posey!

"-Jeff Van Gundy. No...ho...mo. But he has a history of questionable acts. See the diagram I created below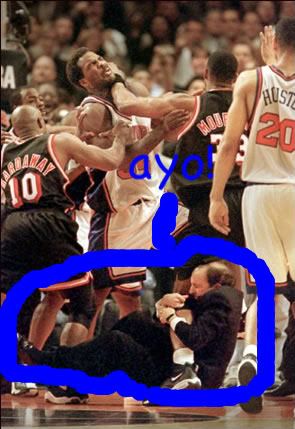 11:56pm

STEAL! FLY! DUNK! SEE! U! IN! BOSTON! DART! 2 more games and it's a championship! I like Mamba's chances





12:01am

Tony Allen's an idiot. I'd just like to throw that out there. I promise I won't blog about the Finals until Game 6 on Tuesday (which I will also live blog). Going to write about the other things that are going on with the world. Like Post Rihanna Syndrome Part 4. And how I'm 2-0 vs 90s Babies in basketball. And my trip to Philly and Cleveland. Wait...bye bye Jesus Buttlesworth! See ya in racist Boston! Get ya clam chowdaa! Kobe's coming to town! Goodnight!

Labels: give me sports or give me death
posted by Sickamore @ 8:29 PM

Friday, June 13, 2008
My Official Game 4 Statement
This is bullshit.

I blame this loss totally on Bynum. And Vooyahbitch. And Rockmanasnitch. And Gaysol.

Where the hell did Odom go?!?! Fadeaway 30 foot 3's Farmar?

KOBE!!!!!!!!!!!! Why has thou forsaken me?!?!?!?! Why?!?!?!

Ray Allen checked his email, wrote out his bucket list and called Spike Lee on the way to basket.

Eddie House is a sucker. Perkins faked his injury.

Will Smith's new movie looks like trash.

No one wants to see Magic/Bird fat asses in their uniforms.

Garnett STILL dissipeared in the last 3 minutes. Libation(LES) is wack tonight. If you cheer for Boston you're racist and say "Chowda".

Lakers in 7

The Famous Firm

Labels: give me sports or give me death
posted by Sickamore @ 12:14 AM

Thursday, June 12, 2008
Kobe vs Celtics Game 4: 4th Quarter
Predictions:

Kobe takes this bitch over

Garnett folds in the last 3 minutes

Eddie House makes a big shot

Paul Pierce pretends to get hurt

Lakers win by 8

Sickamore drunk blogs via Blackberry talking shit


The Famous Firm

Labels: give me sports or give me death
posted by Sickamore @ 11:11 PM

Odom vs Boston Game 4: 1st Quarter Recap
*Live Blogging From Bleeker Street via Blackberry*

Muhahahahahhahahahahahahahahhahahhahahahahahahahahahahhahaha! (Evil Laughter)

Largest Lead In NBA Finals History After The 1st Quarter

Muhahahahahhahahahahahahahahhahahhahahahahahahahahahahhahaha! (Evil Laughter)

The Famous Firm
posted by Sickamore @ 9:36 PM

@ The Famous Firm.com
It doesn't much to make me happy. Little victories keep me alive. Take this morning for example. Lost my credit card for the 3rd time in 9 days last night at Rivington Hotel. I attended a Ryan Leslie party and assumingly misplaced it somewhere in between my 4th and 7th patron shot. Left my bookbag at a potential client's crib in Jamaica, Queens. Got a bunch of books, my leather LV daily planner, chargers, contracts and Macbook in there. Yes, I am the most careless person you know.

So what's the small victory? I looked at my (evil) blackberry a few minutes ago and realized that my whole inbox is filled with @TheFamousFirm.com e-mail address. 47 emails from 7 something until now. We're really our own world onto ourselves. The best business decision I've ever made was resigning. Not a doubt in my mind.

Oh yeah, I went to Colin Munroe's Universal Records Showcase last night. His performance was incredible. I'm betting on him for the Best New Artist at the 2009 Grammy Awards. Bumped into the boss of the boss old heads too, Doug Morris.

The Famous Firm
posted by Sickamore @ 12:31 PM

Kobe, Interrupted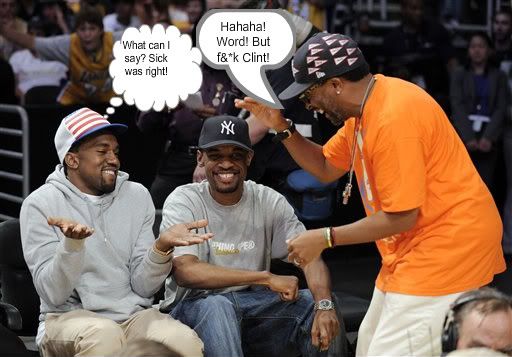 I got your emails.

I got your calls.

I got your texts.

I got your blogs.



"Kobe's finished!" "Lakers gonna get swept!" "No one can stop Pierce/Allen/Powe/Cassell!" "Gasol's a bitch!"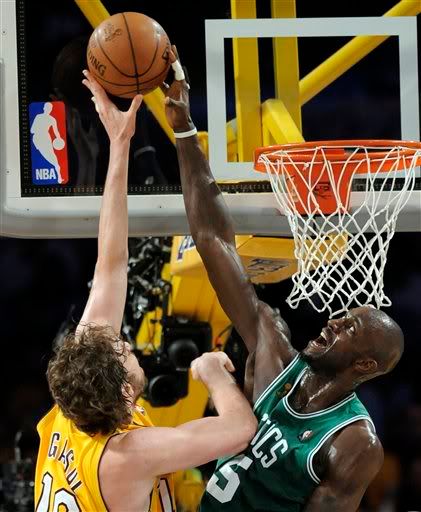 Only the last statement is correct. But you failed to realized the Lakers have the best player of the new millennium. 38 points on a light day. 32 points on a dud. 58 out of 87 Laker points between him and his #2 Sasha. Games 1 and 2 was just a minor set back. Still in all we living, this dream we bout to get back.

Allen, Pierce and Garnett all had their tails between legs in the last 3 minutes of the game. Eddie House was the only one with enough heart to take shots. Doc looked flustered. Powe went back to D-League level. Cassell anybody? The fake Rondo injury wasn't fooling nobody. 50 Cent knows. They're greeeeeeeeen! Greeeeeeen!

If you didn't know, Curtis was talking about Pierce in this video. Just fast forward to Game 5 Dart. Don't even bother to tune into my blog Anjelikah until Game 5. You've been thru this before Hip Hop. They fold on the road Jamal. Let nature take it's course Nasir. The road to 6 rings. This is out of all of your hands. This is destiny. You don't wanna be the old head who has to explain to your kids why you cheered against fate. The greatest player the 90s Babies will ever see. It's like cheering against Obama. Against Martin. Against Tiger.

Game 5 Sunday!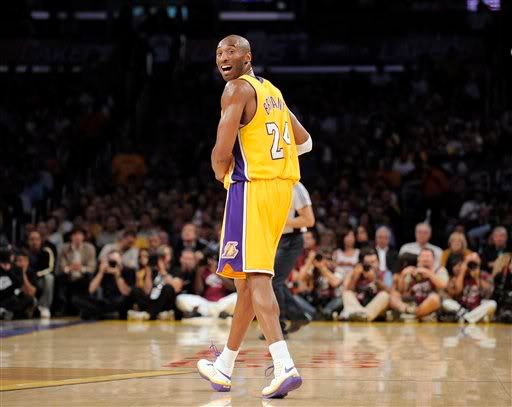 Labels: give me sports or give me death
posted by Sickamore @ 12:09 AM

Tuesday, June 10, 2008
Duck...Duck...Duck...Herps
Check out these scary NYC stats from the NY Daily News. One in every 4 people you see on WhatsPoppin.net has herpes. Makes me wanna stay my happy ass in the house and blog. The whole article below. In the words of the pussy monster:

"Safe sex is great sex
Better wear a latex
Cuz you dont want that late text
that "I think I'm late" text"


A city Health Department study finds that more than a fourth of adult New Yorkers are infected with the virus that causes genital herpes.

The study, released Monday, says about 26 percent of New York City adults have genital herpes, compared to about 19 percent nationwide.

The department says genital herpes can double a person's risk for contracting HIV.

Herpes can cause painful sores, but most people have no recognizable symptoms.

Among New Yorkers, the herpes rate is higher among women, black people and gay men.

The health department urges consistent use of condoms, and says its STD clinics offer free, confidential herpes testing.

Labels: Aint No Love In The Heart Of The City, unfamously treated
posted by Sickamore @ 5:00 AM

Monday, June 9, 2008
Lil Wayne Atlantic City Concert Review


6/8/08
9:06pm
Atlantic City, NJ
Boardwalk Hall

So I was front row at Lil Wayne's concert last night in Atlantic City. Still not sure exactly how I ended up here, but who cares. The more opportunities to blog the better. Also trying out this "email your blog" feature in blogger. Writing this in my evil blackberry on the ride back to Brooklyn.

Some guy from Philly named "Milley Milezzz" or something came out and killed it. All the teenage girls were losing their mind. When I asked who he was, this 90s Baby looked at me like I was a giant teletubby. The name of the song is called "I'm On My Bed". I'll imeem it later.

Can't lie, I felt a little stupid in the front row. It's a bunch of 15 year old girls and my tall ass. Kept looking around for the "Catch A Predator" host. Then the jailbait rushed the front when the music started playing. This one chick in front me looked exactly like Raspusha. HOW YOU DOIN! Mike (of The Famous Firm) and 1st Lady El (Murda Mami Capo) were next to me. Then after a short delay, the little one jumped on stage

Performance Order:
"Dey Know Remix"
"Money On My Mind"
"Ima D-Boy"
"Duffle Bag Boy"
"U Aint Know"
"Project Chick"
"The Block Is Hot"
"Hustler Music"
"Fireman"
"Got Money" f/ Mack Maine"
"Sky Is The Limit"
"I Feel Like Dying"
"I'm Me"
"Prostitute"
"In The Club Remix"
Guitar Solo
"Leather So Soft"
"Go DJ"
"Pussy Monster"
"A Millie"
"Stuntin Like My Daddy" f/ Baby
"We Takin Over"
"Pop Bottles" f/ Baby
"Lollipop"
"I Will Always Love YOU"

Wayne's at his best when he performs his off the wall eclectic drug influenced songs: "I Feel Like Dying", "Pussy Monstor" (pause). He's not a bad guitar player either. Well, not bad for a rapper who has a live guitar tape in the background. Straight Ashley Simponsed it. It was dope that he performed the mixtape classic like "Sky's The Limit" (my gym anthem). Wouldve been nice to see "Cannon" or "It's Me Bitches" as well. I thought the biggest reaction was going to come from "A Millie", but "We Takin Over" had the 90s Babies lose their mind. Overall his energy seemed a little down and performances were quasi-uninspired. He was focused on getting out of there. Kanye should re-structure his routine. A few switches in order and clipping a couple unneccassry songs ("Ima D-Boy") and Birdman Jr's show would be classic.

But you couldn't tell that to those 90s Babies last night. They sang every word to every song. Even before he hit the stage. He's their little big, ya dig.





The Famous Firm
posted by Sickamore @ 1:58 PM

Sunday, June 8, 2008
Sunday Afternoon Starbuckin'
12:36pm
Starbucks, Delancey & Allen
LES, New York

-Just wasted an hour of my life watching SNL political skits. Favorite:

-Andrew Bynum said the Lakers has a chance to win 73 games next year. Kobe need the young boy to take out The Big Ticket. Still Black Mamba in 5, but it would've been a clean sweep if we had the '87 Baby back. I say the Zen Master pulls off some heroics of his own and gets Andrew out of rehab to finish off The Wizard of OZ


-The Firm's 1st 90s Baby starts interning on Monday. This is going to get interesting. Still have room for one more
-

Shaken Venti Iced Black Tea Lemonade Sweetened

in case you were wondering. It's really just a glorified(re: $3.68) Arnold Palmer


-Yesterday I copped this watch by the company called "No Label Watches". There slogan is "by who gives a f*ck" I don't know if it's genius or stupid to have a brand and not "brand" it. Or is the "non-branding" branding? Either way it's dope. Buy here, pics below or myspace page.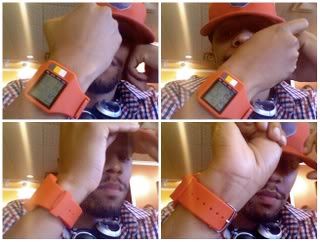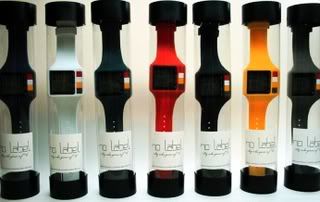 -Game 2 is tonight. I probably won't be able to live blog again because I got this showcase in Atlantic City to judge. I might fuck around and buy an iPhone just to blog it. Kobe wins games 2, 3, 4, and 5. Easy. Lightwork. It's the opposite of something. Remember when A.I. took one from Kobe in the 2001 Finals? Same situation here.
-The No Country For Old Heads movement is in full swing! 3 days and almost 3,000 visitors. Gotta thank Eskay for most of that traffic. If you're not a old head and interested enlisting in this never ending war against the oppression, you know how to find me. Sickamore@TheFamousFirm.com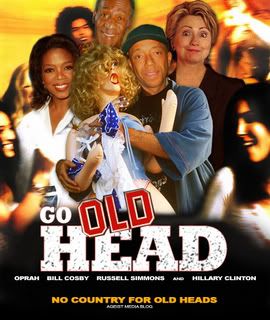 -Five Favorite New York City Starbucks to blog:
5)

17th Street & Broadway

down the block from my 2nd home The Coffee Shop and where I went to college (Barnes & Noble)
4)

15th and 9th

. Lots of electric outlets here. Also a good spot when you just want to read. Down the block from the office on 26th Street. Across from the new Mac store. And a couple hundred feet from Pop Burger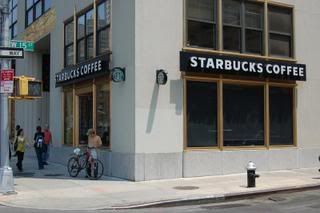 3)

Spring & Crosby

in Soho. This one's a little crowded, but it's great for when you're finished shopping. Or about to head over to Bar 89/Cafe Habana/Bread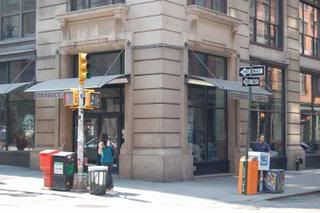 2)

Delancey & Allen

. This is the one I'm in now. Best part? The women who walk in here are incredible. Rihanna/Meagen Fox/Laura London-ish all day. Plus it's right in the middle of my favorite neighborhood in NY. And there's always parking available
1)

21st Street bet 5th & 6th

. I never see anyone in here. It's like the least popular location. Maybe because it's new. But I've posted on that couch for hours and went crazy. Getting a comfortable spot is the best feeling. In the cut something crazy. I can write a novel in there

Honorable Mentions:
Broadway & Grand
164 Smith St, Brooklyn
Montague Street, Brooklyn
Labels: sick-n-stackbucks
posted by Sickamore @ 12:34 PM

About Me
Name: Sickamore
Home: Broooooooooklyn, New York, United States
About Me: 23 Year Old Talent Manager + Ageist. Runs ThankGodImFamous, GoOldHead and The Famous Firm. Overall sarcastic yet nice guy
See my complete profile
Previous Post
Archives
Famous Friends