Monday, June 2, 2008
Tha "Comfortable" Carter III Review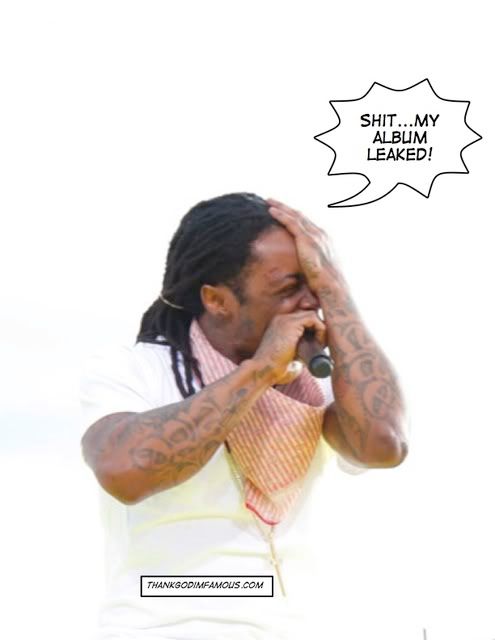 You cannot stop Wayne, you can only hope to contain him. He's probably the closest thing rap's had to an authentic "rockstar" (drugs, tattoos, erraticness, disregard in releasing music) since DMX. My favorite part about him is his unpredictability. The way you don't know if he's going to rap, sing, hum, chant or just die on his next record. Everything is usually fair game with Wayne. That is until

Tha Carter III

.

Not saying the album is bad, it's just tame. There are no real highs or no real lows on C3. "Mr. Carter" shows Wayne taking it easy on his inspiration, while Jay rides the same laid back cruise control flow he's been post-Black Album. "Dr Carter" is definitely creative, but no 90's Baby is keeping that on repeat. "Mrs Officer" and "Comfortable" are cliche' hit record delivered by Wyclef and Kanye respectively. Real smooth, laid back clean track a la Fabolous or Mase. None of the edge of "Lisa Marie" or "Pussy Monster". Actually, it sets the tone for the album:

comfortable

.

Weezy gets way too

comfortable

on Robin Thicke's lullaby "Tie My Hands" and "Misunderstood". Personally don't want to hear Mr. Lollipop kick knowledge. I rather feel his pain. But instead of stadium status songs like "I Feel Like Dying", he gives the underwhelming "Shoot Me Down". Don't get me wrong, it's a good song. Just not for

Tha Carter 3

. The only album my nephew ever asked me about in his 12 years on earth.

The energy peak of C3 comes for the singles. "A Milly" and "Lollipop" is that's the unpredictable, ucontrollable, unstoppable and ORIGINAL Wayne we've come to know and love. The other street record shows Wayne gets outshined by his peers on "Nothing On Me" featuring Fabolous and Juelz. They spit like it was going to be featured on the most anticipated album of 2008. Weezy must've not been CCed on that email, coming thru with the same lackadaisical flow he displays all album.


"Get you 3-4 get you like da number after 1 I'm a get me 2
It's Weezy f u now u gotta hava babayy
My money don't fold nor bends/benz
Mercedes maybach, grey black
And I gota 4-4 and a k like 8-stacks
Fuck yo city yo town I state facts, take dat
No, better yet like Diddy, 'Take Dat'"



Again, I'm not saying it's a bad album. On the contrary,

Tha Carter III

is technically solid. But safe. I expected the self proclaimed "best rapper alive" to take the art to the next level. The other Mr. Carter said it best:



"Young Carter, go farther, go further, go harder
It's that not why we came? If not then why bother?"


It reminds me of Nas "I Am" album where his best songs didn't make the final mix of the album. I'll post my own version of C3 collecting songs off of mixtapes later today.

Rating: C+

Labels: Who Asked 4 Yo Opinion Hoe?
posted by Sickamore @ 8:53 AM

About Me
Name: Sickamore
Home: Broooooooooklyn, New York, United States
About Me: 23 Year Old Talent Manager + Ageist. Runs ThankGodImFamous, GoOldHead and The Famous Firm. Overall sarcastic yet nice guy
See my complete profile
Previous Post
Archives
Famous Friends