Monday, November 3, 2008
Cleveland: My 4th Home*
*after New York, Atlanta and Miami


This weekend I went to Cleveland for the New Music Seminar. Speaking on a panel wit executives from Interscope, Jive, Def Jam, AllHipHop, SRC, BMI, Sirius Radio, G-Unit, Motown and AOL. Shouts to Amber J,, Tone Capone and Eric Parler for throwing such a great event

First stop after getting off the plane was finding food. I met up with Sean of The Famous Firm, who reps us in Ohio, right away.

Ended up at Panini's, some bar on West 6th. Played some pool with Gaeton from Thumplay then met up with the other executive's at this restaurant XO. I was told "that's where "the Cavaliers eat".

I saw Braylon Edwards in there too dressed up as Jimi Hendrix (it was Halloween). Probably not a coincidence he dropped two balls tin the Browns loss vs the Ravens 2 days later.

After dinner, it was time to check my Eighty81 family (Jameel, DJ Steph Floss, Duck) at House of Blues for their Halloween party (which #17 also attended).

Party was great as expected, filled with Patron and shout outs. Then it was back to the Crown Plaza for some R&R.


Saturday started with a listening session. Sean and I met a lot of interesting and talented artists. Took some pictures with the artists I met.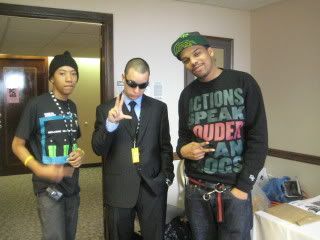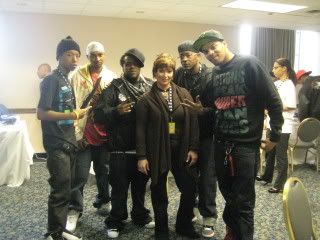 Fameus is a very talented singer from Caton. Check out and download this dope song they played me "Spaceship"

This one singer named JaVe't had no recorded music. So she sang acapella:






After meetings, headed downstairs to the panel. The place was packed!

Sickamore @ The New Music Seminar from Sickamore on Vimeo.
Obama was in the house too!

The seminar was very informative. I believe we really got somethings accomplished. We saw some more performances at the Rock N Roll Hall of Fame, then it was party time!


Supras, Scarfs & Cleveland from Sickamore on Vimeo.

All and all Cleveland was fun (as always). Shout out to Sean of The Famous Firm, Jameel, DJ Steph Floss, Duck, Big Heff, Gemma, Amber, Tone, EP, Manny, Sterling, Dre, Apex, Conrad, General Hawkins, Steve Raze, Kelo, Owey, Pierce, Ant Rich, Ainslee, Nicole, Jessica, Lenny S, JO, Von Jeff, Nigil, The Kick Drums and everyone else I talked too in town. See yall again on November 21st!
posted by Sickamore @ 10:31 AM

About Me
Name: Sickamore
Home: Broooooooooklyn, New York, United States
About Me: 23 Year Old Talent Manager + Ageist. Runs ThankGodImFamous, GoOldHead and The Famous Firm. Overall sarcastic yet nice guy
See my complete profile
Previous Post
Archives
Famous Friends