Sunday, September 7, 2008
Week 1: Love Being Left Alone On A Sunday Afternoon With The Remote
This weekend (besides the flu) was all about football. Here's how my picks did:



9-5 so far with 2 games to go! Looking good!

My Fantasy Team? Not so much. Down by 27 with 1 player to go: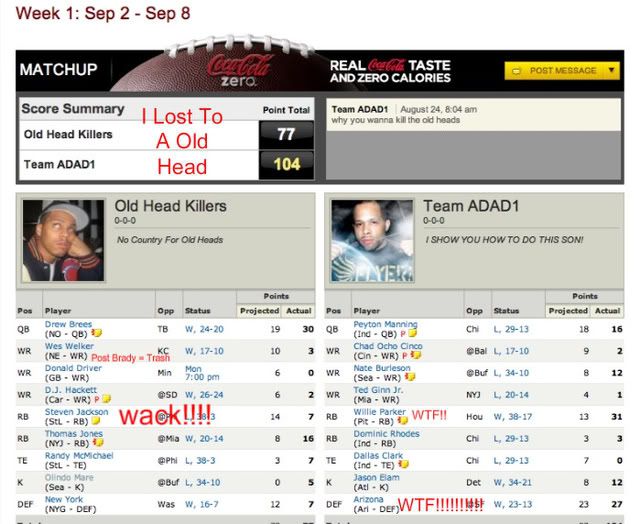 Watched Nerd At The Cool Table call me out via youtube





The Firm and I raided ESPN Zone for Colts vs Bears. I wore my Devin Hester jersey. The Indy fans didn't really feel me when I walked out drunk George Jefferson style



All in all it was a good weekend. Back to work 6am tomorrow. Gnight!
posted by Sickamore @ 11:56 PM

About Me
Name: Sickamore
Home: Broooooooooklyn, New York, United States
About Me: 23 Year Old Talent Manager + Ageist. Runs ThankGodImFamous, GoOldHead and The Famous Firm. Overall sarcastic yet nice guy
See my complete profile
Previous Post
Archives
Famous Friends